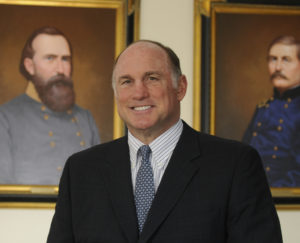 Dear Friends,
I hope this finds you all happy, healthy, and hopeful as we near the end of this year of uncertainty. And what a year this has been! We have learned how to work remotely, wear face masks, socially distance, and avoid groups and gatherings—even with our own family members. It seems as if the virtual world has advanced an entire decade in one short year and we are tasked with learning how to effectively lead remote teams.
If you have found it challenging to lead remote teams, you are in historically good company. Abraham Lincoln struggled to work effectively with his generals stationed in the field. Lincoln made extensive use of the telegraph—the Zoom or Microsoft Teams of the 1860s—but still found it difficult to accomplish his purposes. In January of 1862, less than a year into the war, Lincoln noted, "The bottom is out of the tub."
For most of 2020, it has seemed as though "the bottom is out of the tub" once again. As we live through these rapidly changing, stressful times, it may be helpful to remember that our nation has been through hard times before. What we can learn from how leaders in the 1860s put the bottom back into the tub is not just inspiring; it is motivating. It is worth reflecting for a moment: what wisdom and energies have you gained from 2020?
Now more than ever, leaders must rise to this 2020 occasion and above the defeatist mentality brought on by COVID-19. The courage and resilience demonstrated by leaders in Gettysburg in 1863 are shining examples of how we can move from a "coping" mindset to a "high performance" mindset. I sincerely hope 2021 will bring many of you back to the battlefields of Gettysburg in person where we can experience firsthand the leadership and resilience of the soldiers and citizens in 1863. Until then, I believe our live broadcasts from the Wills House and the battlefields will transport you to an experiential leadership learning adventure you will long remember.
Wishing all of you all the best of the holiday season!
Steve
Please follow and like us: