In 1955, British racecar driver Stirling Moss took on his biggest challenge to date: the Mille Miglia. A 1,000-mile open road race across Italy, the race heavily favored the Italian drivers who had more knowledge of the course than an outsider could hope to possess. Moss had just signed on for Mercedes racing that season and was desperate to make a good impression with a strong finish.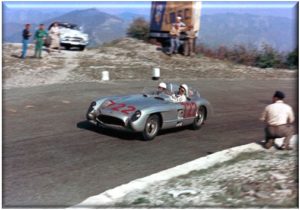 Mission accomplished. Moss finished the race with an average speed nearly 10 miles per hour better than the previous record, finishing over an hour faster than the previous record holder. So how did he do it? Moss employed motorcyclist Denis Jenkinson as a navigator, and together they mapped the entire course in the months ahead of the race. Moss later reminisced, "Pre-race we had worked out where we could save time while other drivers would be backing off, and we also marked places where if we didn't back off, well, frankly, we'd be dead!" That scouting was useful, but how could they document and then recall all that information while going up to 170 mph?
That is where the communication came in. Moss and Jenkinson placed all of the information on a roll of paper that Jenkinson could scroll through during the race in order to tell Moss what was coming next. But the car was so loud that the two men could not speak, and Moss was so focused on what he could see that spoken words meant little to him. To combat these twin problems, they devised a series of 15 hand signals so Jenkinson could relay the necessary information. Fifteen may seem like a lot, but at 170 mph you quickly realize that when your navigator tells you to "veer right" you don't know how he defines veer. What does "back off a little" mean? A reduction of 10 percent? 50 percent? Fifteen signals allowed them to have the nuances necessary to avoid assumptions or interpretations and keep them both alive. As Moss later admitted, "The Mille Miglia was the only race which made me nervous because I never really knew the course… Having Jenks beside me was a tremendous boost… If he hadn't been there, I would never have got anywhere near the average speed we did."
There are many performance improvement and leadership lessons that can be taken from the Moss/Jenkinson win in the Mille Miglia, but two of the most important are developing a common language and overcommunicating the message.
For several years, we have been working with VIRginia International Raceway (VIR) in southern Virginia to offer an experiential program that uses auto racing to explore leadership and performance. In addition to driving and pit crew experiences, Stirling Moss is the backbone of one of our case studies. We don't want to give away too much, but let's just say that the experiential piece of that case study is unforgettable!
Please follow and like us: